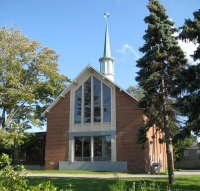 Scarborough Bluffs United Church was established in June 2006–the amalgamation of Washington and Cliffcrest United Churches.  We strive to be a church that offers spiritual nurture and fellowship for all who come seeking. It is our vision that our spacious and light-filled narthex and newly renovated sanctuary, with comfortable seating and state-of-the-art technology, will enable us to become an even stronger presence in our community. Please drop by, check us out, and see how Scarborough Bluffs can be part of your spiritual journey.
We are wheelchair accessible. We have an elevator, and a ramp in the sanctuary. There are ground floor washrooms. We have meeting rooms, a large auditorium and a modern kitchen. Some spaces are available to rent for special events.
We have an after-school music programme for kids–Springboard to Music–on Tuesday and Wednesday afternoons (rhythm and drumming, piano, guitar, keyboard and vocal classes) Springboard to Music. The Bach Children's Chorus has their rehearsals in our space on Sunday and Monday afternoons.
Scarborough Bluffs is a welcoming church with a fairly traditional worship service, but with just enough variety that you can never predict exactly what is going to happen. We don't have all the answers, but we always welcome questions and discussion. We also welcome your talents and your passions. Each person has talents and gifts that give meaning to life and strengthen our shared ministry. We have an openness in theological belief, acknowledging different points of view within the same community of believers.
Spiritual growth and exploration is important to many of our members. Others are interested in social justice issues. Some are "doers" who want to roll up their sleeves and get right into a project. Others are thinkers, planners, visionaries. We need everyone. Together we believe that we can make a difference.
We have a strong outreach commitment. Across the street or across the globe, our faith community is at work sharing God's love and mercy: serving meals, building houses, standing against poverty, hunger and injustice.
We place a high value on music, both in worship and beyond. We have an enthusiastic choir that provides strong leadership on Sunday morning. There is a thriving after-school community music programme (rhythm and drumming, piano, guitar, keyboard, vocal) on Tuesdays and Wednesdays. See details on the music page of our website.  And there is a Saturday evening concert series featuring a variety of groups and styles of music at very reasonable prices.
Our facilities are bright and new, our seating is comfortable and flexible, our video projection system is state-of-the-art, and we would be delighted if you would join us for a Sunday worship service or for some other mid-week community event. Children  are very much a part of who we are, and are always included.
All are welcome!
For more information on our Mission Statement above, please click here.
Situated near the Scarborough Bluffs, Scarborough Bluffs United Church serves a large community of single family residences built in the early 60s. The growth of town houses and high rises in the Kingston Road corridor has enriched and diversified our congregation. As a newly amalgamated congregation, we are eager to embrace the changing demographics of our neighbourhood by welcoming new members, creating partnerships, and expanding our many outreach programs.
Scarborough Bluffs has a large parking lot behind the church, with several handicapped spaces, accessible from Crestwood Drive.
For TTC users, the 116 Morningside and the 86 Scarborough buses stop right in front of our door.
For a Google map of the area, click here.